The Super Bowl of Weight Loss: Former NFL Players Drop Pounds, Get Healthy
Published: Jan 26, 2015
By Lisa Greene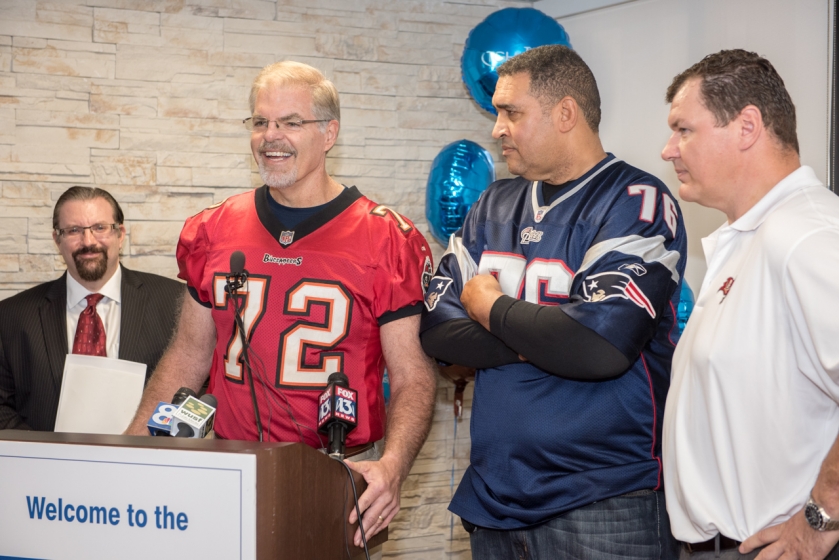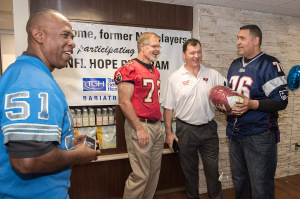 When Rob Taylor was an offensive lineman, he ate everything in sight.
"You've got to gorge yourself," said Taylor, who played for the Tampa Bay Buccaneers from 1986 to 1993. "You get paid to be big."
But when he retired and slowed down, his eating habits didn't. By last year, Taylor's weight had soared to 340 pounds. He had an irregular heartbeat, he snored loud enough to wake his wife, and he had given up believing that he could change.
"I was at that place where I was going to be a big guy, an obese guy, for the rest of my life," Taylor said.
But then he, along with three other former NFL players living in the Tampa Bay area, joined a six-month research study at the Tampa General Hospital + USF Health Bariatric Center. The study was designed to promote weight loss in former NFL athletes.
Taylor and the three other players – James Harrell, Brian Holloway, and Jason Manieki – shared their success stories at the Bariatric Center Monday, just in time for the Super Bowl. Together, they each lost an average of close to 50 pounds, said Drs. John Paul Gonzalvo and Michel Murr, co-directors and founders of the Bariatric Center.
The biggest loser? Taylor, who lost 93 pounds, dropping from 340 pounds to 247.
"I really appreciate my teammates and the support they provided," said Taylor, who also played for the Philadelphia Eagles. "Dr. Gonzalvo and the bariatric staff have been phenomenal."
The TGH/USF Health center was one of five national sites for the HOPE (Heart, Obesity, Prevention & Education) Program for former NFL players, sponsored by the Living Heart Foundation, a non-profit that has documented the high rates of heart disease and other medical problems suffered by former NFL athletes.
The doctors were especially interested in working with the players, Dr. Murr said, because of the special challenges of getting men to lose weight.
"Obese men seek medical help only when the medical co-morbidities that come with obesity have set in and have taken their toll," he said.
The program was intense. They started out drinking meal replacement shakes twice per day, along with a high-protein, low-carbohydrate dinner, gradually moving to eat more regular meals. They came to the center weekly for nutrition and behavior modification counseling. They received custom metabolic analysis and exercise plans tailored to their health status and sports injuries.
And they helped each other.
"We thought the NFL players gave us a unique opportunity because they already have that team camaraderie," Gonzalvo said. "We thought they would be able to help each other out, and give each other support and encouragement."
The team strategy worked. The four men lost a total of about 15 percent of their body weight.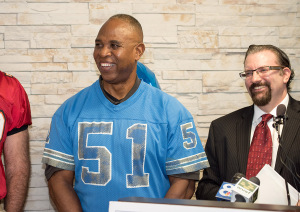 That's "an incredible result," Dr. Gonzalvo said, especially considering that the target for many medical weight loss programs is often about 5 percent.
"Being former players, we love a game plan," said Jason Manieki, a former Bucs player. "It has tremendously changed my lifestyle."
"We did have a great time," said Holloway, who played for both the Los Angeles Raiders and the New England Patriots. "I love these guys a lot."
Holloway, who lost 75 pounds, encouraged people who want to lose weight to involve others. The team spirit helped him persevere, despite having to modify his exercise routines because of the lingering pain caused by football injuries.
"Think of your grandchildren," he said. "I have eight children. I want to see all of my grandchildren."
James Harrell, who played for both the Detroit Lions and the Kansas City Chiefs, said the 30 pounds he's lost means he's now below his old playing weight of 235 pounds. He has more energy and he's no longer at high risk for diabetes.
"My kids notice the difference," said Harrell, who's now the defensive coordinator for the Plant High School football team. "My players notice the difference."
Drs. Murr and Gonzalvo hope to translate lessons from the NFL players' experience to others trying to lose weight. Noting that now is the time that New Year's resolutions start to flag, Harrell said he hopes the players' success can inspire others.
"Hopefully they'll see there's hope and stay the course," he said. "It's not a sprint. It's a marathon."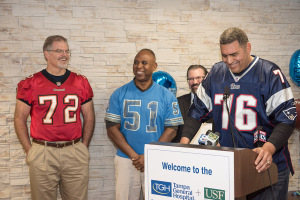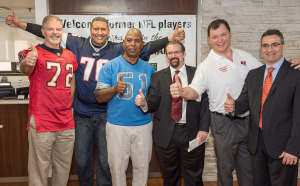 - Photos by Daniel Wallace, TGH Health News