TGH Has New Treatment for Catastrophic Blood Clots
Published: Feb 10, 2015
By Lisa Greene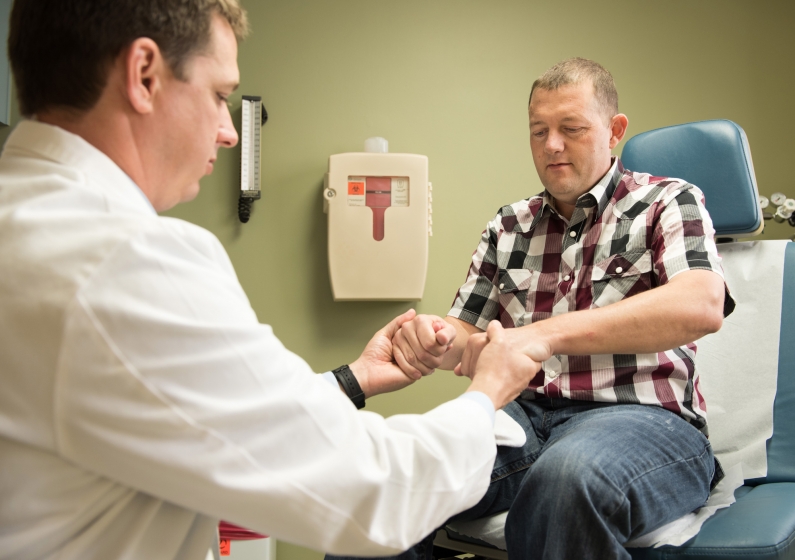 How many times can a single injury almost kill you?
James Johnston knows it's more than once.
The 41-year-old generator mechanic at MacDill Air Force Base dodged death once by surviving a freak fall that left him in a coma for a week. Then, just weeks after leaving the hospital, he faced grim complications that could have cost him his life - or, at the very least, his legs.
It would take the best and newest treatment that medicine could offer – a new surgical procedure at Tampa General - to save him.
Johnston doesn't remember falling on a concrete floor, hitting his head so hard that his injuries resembled a fall from a second-story window. The blow fractured his skull, slammed brain into bone, and caused bleeding inside his skull.
Johnston was still battling memory loss and shaky balance when he went home to his to his wife, Julieta, and their two boys, Glenn, 18, and Nicholas, 15, in Central Florida.
As he worked on his recovery, Johnston's leg began to hurt. He headed to a community hospital and learned he was suffering from a major blood clot, a common problem after a serious head injury.
Every year, some 600,000 Americans suffer – and 100,000 die - from these life-threatening blood clots, called deep vein thrombosis (DVT), and pulmonary embolisms, which are clots that move to the lungs.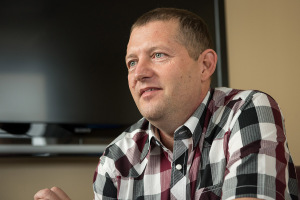 Doctors injected medicine to dissolve Johnston's blockage. They also put a device into the veins in his abdomen called an IVC filter, designed to keep clots from traveling to the lungs.
But Johnston's clot was just too big to dissolve. It kept growing, overtaking the filter and making it even harder to treat. Soon, it started to cover Johnston's kidney veins, and his organs began to fail. His legs ballooned to twice normal size.
The standard treatment facing Johnston called for amputating both legs. But between his failing kidneys and his head injury, the surgery also could cost him his life.
And this is when Johnston learned about a new device that literally can vacuum a giant clot from the blood. Dr. Cliff Davis, an assistant professor in vascular and interventional radiology at the USF Health Morsani College of Medicine, had recently begun performing this new procedure at Tampa General. The device is the AngioVac Cannula and Circuit, made by Angiodynamics, Inc., of Albany, N.Y. Tampa General is one of four Florida hospitals performing AngioVac procedures regularly.
Simply put, the AngioVac is a vacuum cleaner for clotted veins.
"It sucks the blood through one (tube) and then it filters the clot out and gives the blood back to you," Dr. Davis said.
For Johnston, even the standard AngioVac procedure carried some risk. Doctors usually inject contrast dye during the procedure, so they can watch their actions on X-rays and prevent any damage to veins. The contrast dye is toxic for the kidneys, and Johnston's were already failing. Still, to Johnston, the AngioVac seemed like the best option.
So Dr. Davis and Dr. Bruce Zwiebel, associate professor of radiology at USF Health, came up with a new solution, using ultrasound to monitor the procedure rather than dye.
Two weeks later, Johnston returned home. At first, he had to use a walker.
A few weeks ago, he was back at Tampa General – this time for a final check-up with Dr. Davis. He walked into his appointment with a cane. He needs it mostly to help with balance.
"You look like you can get around pretty good, man," Dr. Davis told him.
They did measurements and some stretches.
"Can you stand on your tiptoes?" Dr. Davis asked.
Johnston did.
Things aren't perfect. Johnston still hasn't rebuilt all the muscle mass in his leg. And he hasn't yet returned to work, or tried driving, because of his head injury. He's still working on his memory. But he's sure that Dr. Davis and his colleagues saved his life. All things considered, he's happy.
"I wouldn't be like this without you, man," he said to Dr. Davis. "I'm ecstatic. This is great."
A few minutes later, he left the hospital.
He walked out.
To learn more about the AngioVac and other interventional procedures to treat DVT at Tampa General, call (813) 844-4570.
Photos by Daniel Wallace, TGH Health News.