Mom and Daughter Have Babies on the Same Day
Published: Feb 27, 2015
By Lisa Greene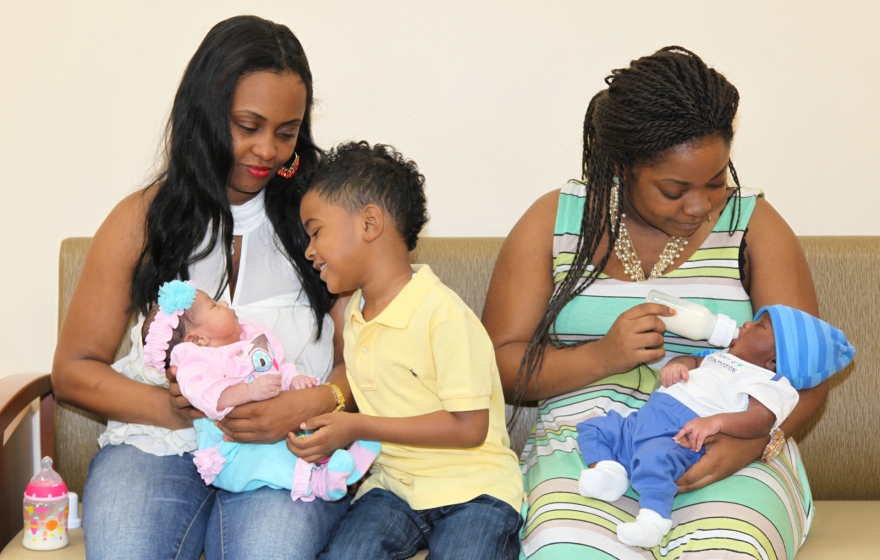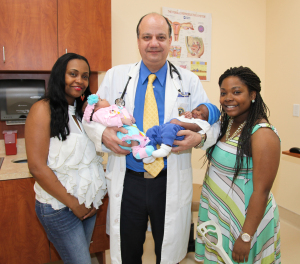 When they first learned they both were pregnant, Angela Patram and her oldest daughter, Teranisha Billups, expected their delivery dates to be within weeks of one another.
As it turned out, mom and her daughter delivered babies within minutes of one another.
Patram, 37, and Billups, 20, gave birth just 34 minutes apart at Tampa General last week.
"I've been in this field for 29 years…I've seen maybe 14,000 deliveries," said Dr. Atef Zakhary, who practices at Tampa General. "I've never seen a mom and daughter deliver on the same day. And this is as close as you could get."
"They're almost twins," joked Patram, a surgical oncology nurse at Tampa General.
Patram, 37, was scheduled to be induced on February 19. Billups was due to have her first baby two weeks later, on March 6.
The night before Patram's induction, Billups went into labor.  By Feb. 19, mother and daughter were both in labor in rooms next door to each other.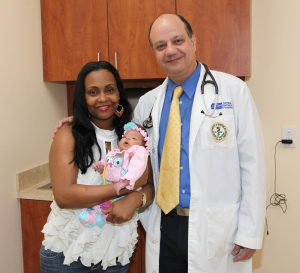 Patram's fifth child, Rayna Simone Patram, came into the world at 6:29 p.m., weighing 6 pounds, 7 ounces.
Baby Jerry Michaud, Jr., arrived via Caesarean section 34 minutes later, weighing 7 pounds, 14 ounces.
Both moms and babies, along with Angela's 4 year old son C.J. and Jerry's father, Jerry Sr., visited Dr. Zakhary Friday afternoon.
They've spent the last week explaining how everyone's roles became a little more complicated. In the span of a half-hour, little C.J. became a big brother and an uncle; Patram welcomed a new daughter and her first grandchild into the world; Billups got a new sister and became a mother.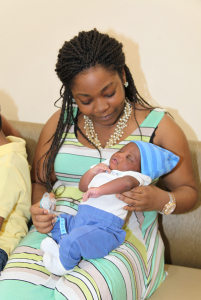 And yes, they've already heard a lot of jokes about "Father of the Bride Part II," the 1995 Steve Martin – Diane Keaton movie which featured dueling mom-and-daughter pregnancies.
"It's a blessing," Patram said.
Billups is a biology major at Florida A&M University, from which Michaud just graduated. But Billups wants to transfer to USF to finish her degree and then enter its fledgling physician assistant program. The couple wants to be near family.
"I guess we have special babies," Billups said. "We'll be celebrating birthdays together for the rest of their lives. They'll be very close."
Photos by Michael Dupre for TGH Health News