"Seeing stars" is serious: what parents need to know about concussions
Published: Apr 23, 2015
By Lisa Greene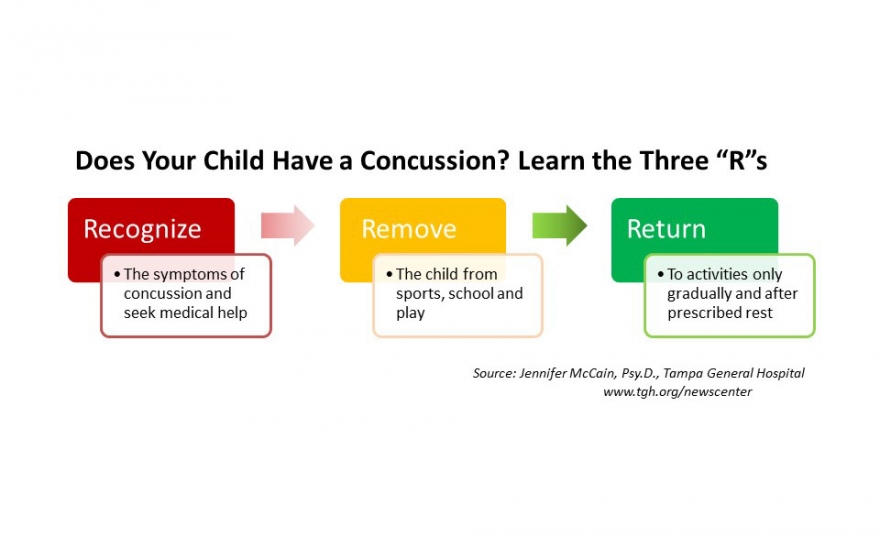 Zipping down slides and kicking soccer goals are fun, healthy activities for kids – but they aren't without risk.
More than 170,000 children across the country find themselves in emergency rooms each year with concussions or similar brain injuries received while playing sports or outdoor activities.
And here's something you may not know.
"You don't have to hit your head to have a concussion," says Jennifer McCain, PsyD, a Tampa General Hospital neuropsychologist who cares for children with concussions. "It's a forceful bump or blow or jolt to the head, or the body, that results in a rapid movement of the head."
McCain wants parents to understand this so they can better recognize concussions and make sure they get appropriate treatment.
Parents should seek medical attention if their child exhibits any of these symptoms:
Appears confused or dazed
Fainting
Visual changes
Dizziness, nausea, vomiting
Headache
Sleep problems
Irritability, crying, shows unusual emotion
"If in doubt, I would go to the emergency room," McCain said. If a child seems unusually upset after getting banged up on the field, it may be mistaken for tears over the incident. It could also be a sign of concussion. Parents should remember that bike helmets – while important for protecting against skull fractures – don't prevent concussion, McCain said.
McCain is working to make sure parents, coaches, and teachers recognize the signs – and know that under Florida law, a child can't go back to play sports within 24 hours of a concussion. Her mantra is for parents to learn the 3Rs: recognize the signs of concussion; remove the child from sports, school and play; and return only gradually to normal activities.
"If you put your kid back in too soon, they could have another concussion, and they could have prolonged symptoms," she said. "The problem is that a lot of these children have concussions that are not recognized."
When children do have a concussion, a medical professional, such as a neuropsychologist, will work with the family on an individualized plan for a gradual return to school, sports and other activities. Giving the brain time to rest and heal includes a difficult move for today's kids: putting down the cell phone.
"The texting and the video games – they take so much cognitive energy and they're always the first thing that kids want to do," she said. "My son is 10 years old, and he had his first concussion. He said, 'Mom, I know I can't do video games.' But it was really hard to keep him away."
Scientists are beginning to recognize the long-term consequences of repeated concussions are greater than once believed – especially when they go untreated. In March, San Francisco 49rs linebacker Chris Borland drew national attention to concussion risks when he retired from the game.
Borland, who suffered two concussions as a teen playing youth sports, told ESPN that he had recently played through what he believed to be an untreated concussion in training camp. After initially ignoring that injury, Borland consulted with doctors and decided that for him,  the health risks were just too great.

Among younger children, bicycling and playground accidents are the leading causes of concussions. As children get older, sports-related mishaps become more prevalent. Head injuries suffered playing football brings more than 26,000 young people into emergency rooms each year  It's one reason boys are more than twice as likely to suffer such injuries than girls.
There are regional differences as well. In the north, doctors see injuries from hockey and horseback riding, while in Florida, McCain sees head injuries from ATVs, water sports and even golf cart accidents.
Videos by Daniel Wallace, TGH Health News