New less invasive prostate procedure now available at Tampa General
Published: Apr 9, 2015
By Lisa Greene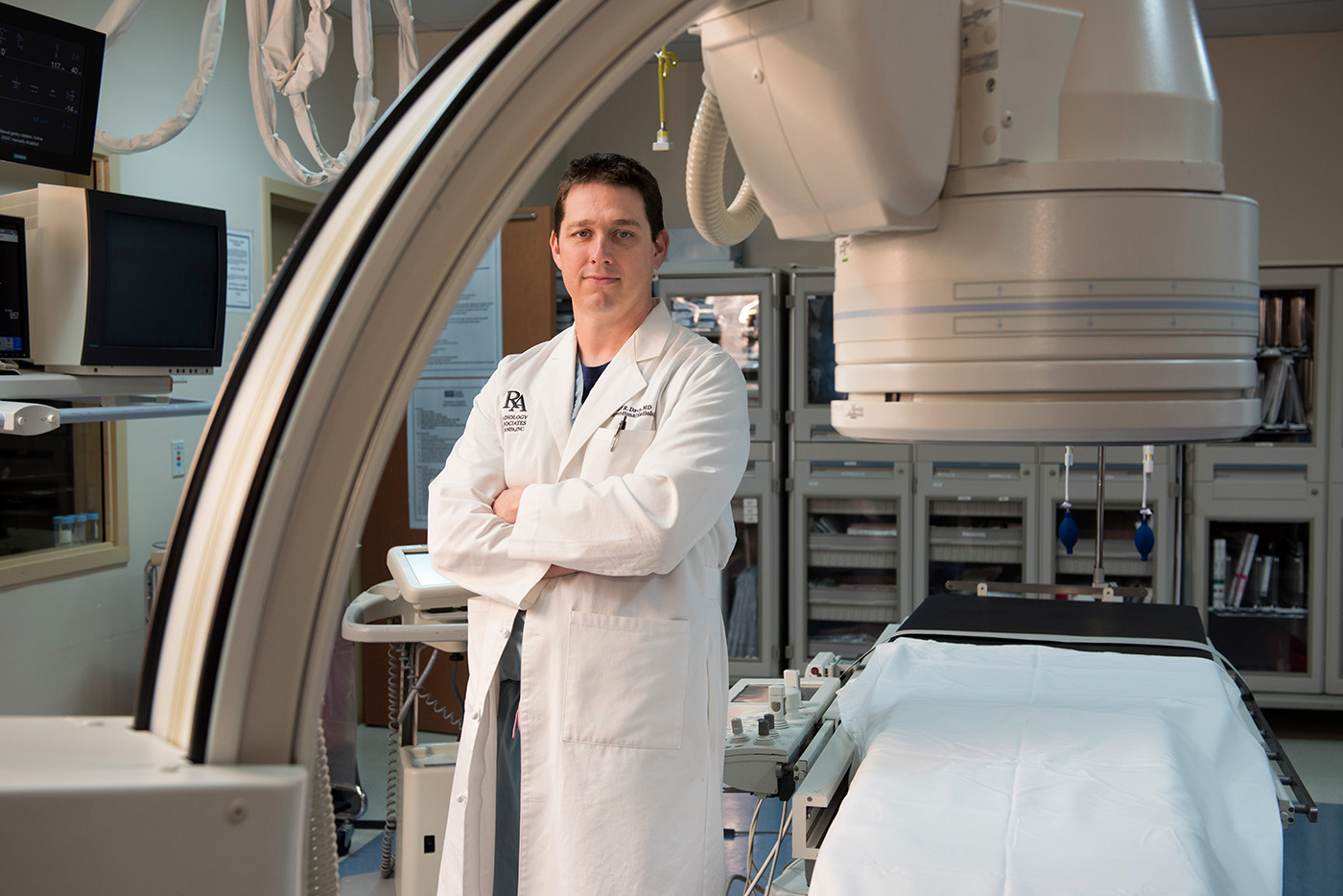 If they live long enough, almost every man will experience the unpleasant symptoms of an enlarged prostate.
Many of them live with those symptoms rather than undergoing the most common surgery that is now the standard treatment for the condition, called benign prostatic hyperplasia, or BPH.
But Tampa General is now one of the first hospitals in the United States offering a minimally invasive procedure to treat BPH. It blocks blood vessels leading to the prostate, causing it to shrink.

While the procedure does not yet have FDA approval, the procedure, called prostate artery embolization, or PAE, is being studied as an alternative with less hospital time and fewer side effects than traditional surgery.
"That's the wonderful thing to me," said Dr. Cliff Davis, an interventional radiologist who has recently begun performing the procedure at TGH. "You replace a surgery that has spinal or general anesthesia with almost no sedation."
Around 14 million men suffer from symptoms of BPH. As they get older, the condition becomes more common; it affects about half of men in their 50s, and as much as 90 percent of men over 80.
Men with BPH may have to wake up in the middle of the night to urinate more frequently. It may hurt. They may have trouble controlling their urine, or not be able to go at all. They may be treated with medication, but the symptoms often continue to progress, Davis said.
To perform PAE, Dr. Davis guides a catheter through an artery in the groin to deposit tiny beads in the vessels supplying blood to the prostate. With the blood supply blocked, the organ shrinks, decreasing the pressure on the urethra that causes symptoms. "
Men perceive it to be much less invasive," than the most common surgical procedure, called transurethral resection of the prostate, or TURP, Dr. Davis said. In that surgery, surgeons insert a scope through the penis and cut the prostate into small pieces to remove it.   In PAE, "Patients only need to have a catheter in place for a few hours during and after the procedure," Davis said.  
PAE is being performed as part of two studies now underway at Tampa General Hospital.  In one, Tampa General is a site for an international study comparing  PAE to TURP. In the second, Davis are evaluating whether PAE may be a good option for men who have extremely large prostates.  The alternative for these men now is a procedure called surgical prostatectomy.   Davis is also an assistant professor in vascular and interventional radiology at the USF Health Morsani College of Medicine.
The new procedure is generally not yet covered by insurance. However, men who enroll in one of the studies can get their costs covered. Patients being considered for the procedure will also be evaluated to rule out other conditions, such as prostate or bladder cancer.  Because PAE is less invasive, some patients who might not be good candidates for the TURP surgery, such as older patients or those with certain complications, may still be able to have the PAE procedure, Davis said.
To learn more about the prostate artery embolization study at Tampa General Hospital, please call (813) 539-5995.
Photo by Daniel Wallace, TGH Health News; Illustration courtesy of Merit Medical.
The content and information provided is for informational and educational purposes only and is not a substitute for professional medical care.  Consult a qualified medical professional for diagnosis and treatment of any medical condition.