LVAD – Left Ventricular Assist Device – As a Treatment for Heart Disease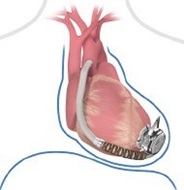 Physicians may recommend an LVAD, or left ventricular assist device, as a treatment for patients with severe cardiovascular disease. Designed to provide circulatory support for a heart that no longer functions properly on its own, an LVAD helps transport blood from the left ventricle to an implanted pump, which then directs the blood through a second tube to the aorta. From there, the blood is distributed throughout the rest of the body.

Mechanical circulatory support (MCS) devices can be implanted for several reasons. For instance, an LVAD may be used as:
A bridge to transplant, for patients who are on the waiting list for a heart transplant but need additional support while they wait for an organ to be allocated
A bridge to recovery, for patients who are expected to regain normal circulatory function after receiving mechanical support for a temporary period of time (such as is the case for patients who are recovering from a bypass surgery)
A destination therapy, for patients who do not qualify for a transplant (or elect not to undergo the procedure) but who require permanent treatment to improve their quality of life
THE MECHANICAL CIRCULATORY SUPPORT PROGRAM
At Tampa General Hospital's Mechanical Circulatory Support Program, we offer LVAD implantation as a treatment for end-stage heart failure. Potential patients must undergo several tests and consultations to assure MCS is the most appropriate course of treatment at the time. Decisions regarding patient selection are physician-driven based on the patient's goals of treatment, body size, and certain cardiac conditions. Since 2002, more than 600 patients have received implants to treat advanced heart failure.

The MCS Program at TGH is recognized as a leading VAD center in Florida and one of the best programs in the nation. We are a member of the Heart Hope Consortium of Ventricular Assist Device Centers and are committed to providing patients with the most effective options for managing end-stage heart disease. We utilize some of the most advanced left ventricular assist devices currently available for implantation, including the CentriMag, HeartMate II, HeartWare LVAD, Impella, Syncardia Total Artificial Heart (TAH), and ECMO. The MCS Program aims to be a leader in medical research, clinic services, and in conjunction with our University of South Florida partners, education.

To learn more about LVAD therapy at Tampa General Hospital, please call TGH's Ventricular Assist Device Program at 1-800-505-7769 (select option 2 for the Ventricular Assist Device Program) between 8:00 a.m. and 4:30 p.m., Monday through Friday. Or, you can email us at or email vadteam@tgh.org.

Click here for the Cardiothoracic Transplant and VAD Programs Referral Form.