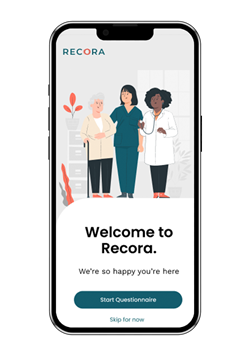 Tampa General Hospital now offers cardiac rehabilitation in the comfort of your own home through our trusted partner, Recora. If you select this program, we will send you a Cardiac Recovery Kit, which will include exercise equipment, an internet-enabled tablet for your virtual sessions, and health devices for nurses to monitor your activity during each session and ensure your safety.
We are able to get you started in as soon as two days, and participation is easy as you do not have to travel to a facility. If you've had any heart event or surgery, you may be eligible for this program. If interested, please click here to fill out the interest form and a member of the Recora team will contact you.
A Phased Approach to Cardiac Rehabilitation
Phase 1 - Evaluation
Phase I of the recovery process begins while a patient is in the hospital after a cardiac event. Once the patient is able to walk, a physical therapist will perform an evaluation to determine what the patient is able to do physically at a baseline. This sets the stage for the next phase of rehab.
Phase 2 - Rehabilitation
Phase II is a 12-18 week outpatient program consisting of two-three sessions per week of progressive monitored exercise. Patients will be evaluated and given the choice of completing cardiac rehabilitation either in-person or through our at-home virtual option for care with our trusted partners, Recora. Our dedicated team includes exercise physiologists, physical therapists, occupational therapists, nurse clinicians, and other medical staff who will create a highly personalized plan for the patient, based on his or her overall health, condition and treatment goals. The patient's heart rate and heart rhythm are continuously monitored with a mobile ECG telemetry system throughout the Phase II program to ensure the safest possible environment.

During this phase, the patient is also provided educational materials, support group resources, and counseling regarding heart disease, diabetes, medications, nutrition and weight loss, stress management, mental health, risk factor identification, modification, and smoking cessation.

Our on-site physician reviews the patient's exercise program and their progress throughout Phase II. Once cleared, the patient can graduate from Phase II.
Phase 3 - Graduation
Upon graduation from Phase II, patients are eligible for Phase III, which is an individualized exercise program designed to last the patient's lifetime. We will either help the patient find a suitable local gym, or refer you to Recora, our virtual rehab partner, for options in continued care.
Frequently Asked Questions about Recora